Well, I wasn't sure I wanted to go! Forecast from the Met Office was "sleet." It didn't freeze on me but it did wet my pages with a misty rain. Gah, I am still cold to the bones and I have been home 4 hours. I'm imagining a lot of sketches of hot chocolate and metro trains from the Montreal contingent...let's do this again when it's summer in the Northern Hemisphere!
Here are some of my sketches.
This is a window in the King's Parade wall of King's College. I was pretty happy with it after colouring it, but it was raining and I put a piece of tissue between the pages when I closed the book, and most of the watercolour came off on the tissue!
This was an issue with the sketchbook I used: the surface is so smooth it's almost waterproof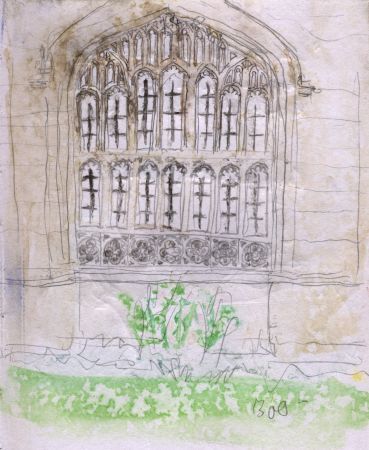 I wanted to quit by this time but I thought I'd see if I could draw from inside first. I tried upstairs in both big bookstores but Waterstones didn't have windows in its cafe and Borders was packed full, so I went to Starbucks by the market square.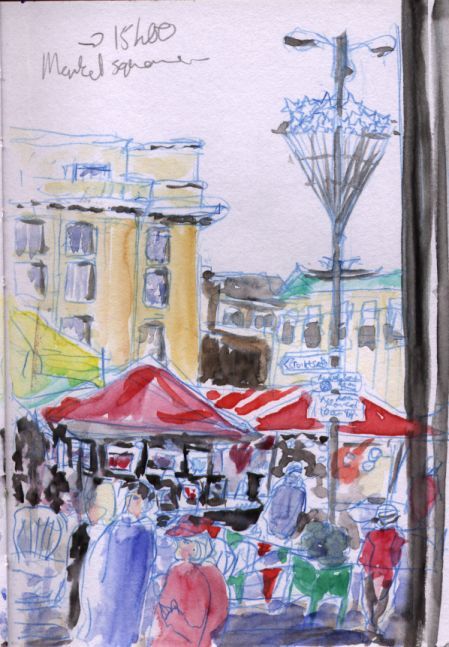 Decided to take it easy and leave it at the pencils for the cozy gate of Christ's College. The porter put up the "College Closed" sign as I passed, or I might have wandered into the courtyard. Christ's has very nice and quiet gardens and I've been able to go in and enjoy them before without any hassle (watch out for some Colleges in summer, they'll charge you to look in!). You can't tell for sure by the sketch, but there's a couple snogging by the door. Yes, she has a hooded jacket!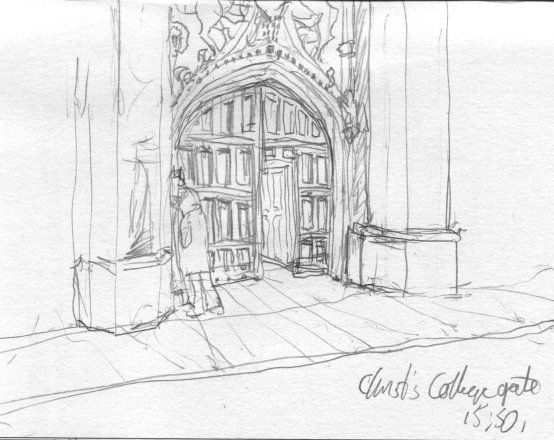 Here's the last scene before I went back to join the crowd watching Captain Sensible of The Damned switching on the Christmas lights. It's not easy using a brush with numb, shaking hands, but I think I like the Pentel brush pen. There may have been a little smudging with the watercolours, but not much. It wasn't raining by this time though, so the ink had a chance to dry before I put water on it.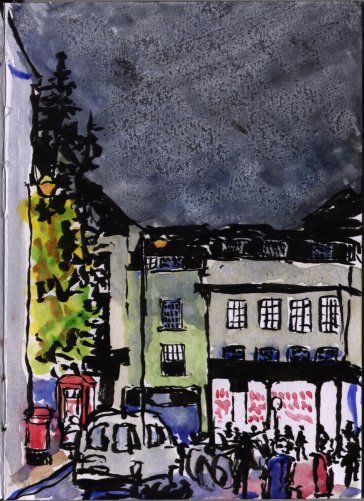 Finally a doodle of two of the onlookers in the Market Square.